Made the mistake of assuming superhuman abilities and could prepare for a five month thru-hike over a couple of weeks. Here's what I expect to be a rather common headline for many of my future posts…
---
A list of where I went wrong
---
1 – Contemplating over my gear too much.
Stalled on putting together a detailed gear list until 2-3 weeks before departing the UK. It's a smart and obvious idea to look at other PCT hikers' lists. However, don't fall into the trap of waiting to see too many before accumulating your own. So far, I haven't seen one gear list that directly reflects another. Each has been bespoke to the individual hiker's needs. Can guarantee you that the sleeping bag I eventually ordered was different from 99.9% of this year's mob. Check it out…
Very snazzy, right?! Actually, don't answer that – I already know it is.
The best advice I can give you is to get your gear list sorted long before your departure date and enjoy civilisation whilst it lasts. It's endlessly frustrating and tedious to organise everything in two weeks, not to mention the panic around delayed arrivals! (Still waiting on that sleeping bag and leave for San Diego in 4 days!)
2 – Still permit gathering.
So far I have the PCT Long Distance Permit & subsequent start date, but still need the Entry to Canada via the PCT Permit and Campfire Permit  (just did this) in case my stoveless fantasy is short-lived and I succumb to the realms of hot meals.
Have already been denied entry to Canada due to a minor mistake on my application form. Would advise getting this done at least four weeks prior to leaving as responses can be slow and you don't want to be waiting for an answer whilst out on trail (like I'm going to have to).
3 – Revision.
Still very much an advocate of 'winging it' whilst on trail. Not knowing too much in advance means not over-preparing and expecting a certain outcome. So many successful thru-hikers I've contacted have told me to "prepare little and expect something else entirely". One thing I wasn't told is that preparing a little also takes up a lot of time! Going stoveless means I need to plan out my resupply stops even more thoroughly.
It's all fairly basic once you get going, but it's time which could be better spent slobbing out or with your nearest and dearest.
4 – All the little things.
Then there comes a multitude of other bits, which only come to mind when you really sit down and think about what you need to do before leaving. It all seems fairly simple at first – just a couple of permits, some gear and a flight. We're all wrong. It's the little things like this that really consume your time.
Things like currency cards for us international lot, banking/direct debit management, storage of both your valuables + everything else,  phone contracts/unlocking (Vodafone did a Vodafone and lied about some key elements to tie me into a new contract, with a handset they won't let me unlock…). Much like gear lists, each 'to do' list will be different from one and other, but we all have one that we only find out about last minute.
---
DON'T MAKE THE ABOVE MISTAKES!
---
The key reason not to leave the above until the last minute is that you don't get sufficient time to do the following.
1 – Obligatory final goodbyes with friends and family.
I had two fantastic send-offs. It's just a shame that there weren't more opportunities for me to see everyone on an individual basis before leaving.
2 – Hike.
Hiking is a fairly key element on any thru-hike…remarkably. So not leaving yourself enough time to break in your shoes and get used to the mileage could put you in an uncomfortable position, behind everyone else and at greater risk of injury.
Here's some proof that I've been on at least a few over the past two weeks.
3. Just chill out!
Even keeping up with this blog and social media has become difficult due to time constraints. Combining these has been my 'down time', which is ridiculous really. I should be combining a big bag of salt & vinegar crisps with a Bear Gryll's survival boxset!
---
ONE WEEK TODAY!
---
Please don't forget the main reason behind all of this preparation and the hike itself, raising money for CRY. Please take a look at my fundraising page now for more info about how to donate, it would be great to hit my initial target before I start!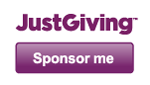 Follow more of my blog, photos and other bits too. Click the menu button at the top right of this page.
---